Iron forging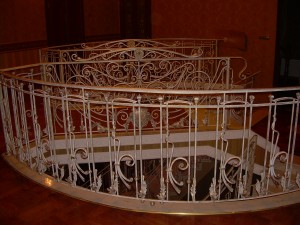 We offer special services of ornamental wrought iron works to our cliWe offer special services of ornamental wrought iron works to our clients. Not just professionals do this job; here true artists turn the dreams into reality. If you want to decorate your house for ages, here are our offers for you. A choice of:
Fences, gates, doors, eaves
Staircases, balconies, window railings
Gates, benches, pavilions
Street fencings, street lights
Home furniture – beds, tables, chairs, bedside tables
Garden furniture – swings, grills, barbeque, wine vault
House accessories – wall lamps, flower supports, magazine racks, hangers
Emblems, cups, animals and birds figurines
Customized orders
Forged items have always been something special. They have always been in the houses of the wealthiest people, emphasizing their individuality. baroque, Gothicism, minimalism, renaissance – sophisticated patterns of metal are just everywhere. Internet offers many options, but it is our factory that has a number of advantages:
Own production. Our production facilities and factory conditions guarantee quality and stability. You will be sure your order will be donein dedicated premises – welded seam and metal bending quality depends on it. Forging equipment meets all modern requirements, too. You will also be certain about the quality of materials – purchases are only made from approved suppliers, rolled metal and steel rods all have proper quality and compliance certificates.
Skilled workers. Ornamental wrought iron demands a special approach. Blacksmith's skills and knowledge are very important, as well as artistic taste and lots of patience. Our professionals have all those features. We managed to involve the best engineers and technicians to work for our modern production. They all are here, waiting for you!
Superior quality of items. It does not matter whether you order a small eave above the entrance door or forged decoration for a large house, you get finished items to adore anyway.
Durability. Special approach to protecting metal from environmental conditions makes our items almost unique. The best coatings and paintings widen color range, cold galvanizing prevents corrosion, and patina-forming treatment adds the look of noble metals.
Big opportunities. Our professional skills and production capacity allows solving tasks with any complexity level. We produce everything you can dream of, and even slightly more!
Guarantee. We are sure in our work, so we issue a guarantee for our items. Ornamental wrought iron items that we made would live for decades for your joy and the joy of your family, impressing with its beauty and functionality.
Fitting the deadline. We are serious in our business, so every order is protected with a contract. The contract specifies particular terms and the time schedule for the order. Be sure we do not need an extra day!
Measurements and project preparation. The final impression about the item depends on who carries out measurements. Nobody wants to widen a window or break the fencing to fit the gates in between. Our specialists visit you to carry out all measurements professionally.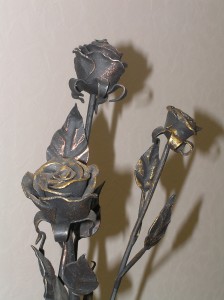 The history of forged items has thousands of years. It is now that human skills and technologies are in harmony to give birth to real masterpieces. You are cordially welcomed to touch amazing items and to decorate your house and your life with them. Roses made of metal are beautiful, too. Contact us now!
ents.