Decoration fences
City landscape includes not only houses and streets but also parks, grassplots, fountains, flowerbeds, and building surrounding grounds. Decoration fences harmonize and bring geometry to all those. The overall impression about a house, a hotel, a restaurant or a café depends on how nice and attractive the fences are.

Our factory offers forged iron fences under the best price at the market. We run a large factory with all human and material resources necessary to guarantee the superior quality.

Welded structures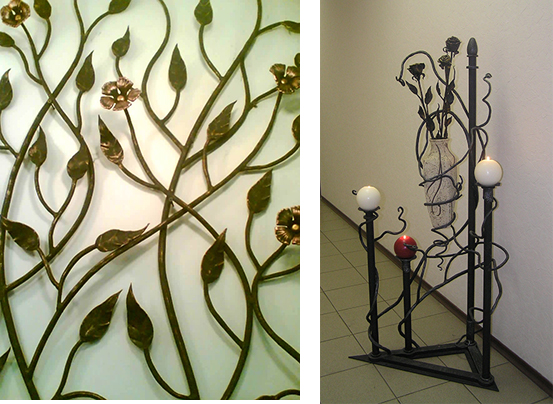 If above all one needs to get reliable and durable fences at a low cost, it is the welded structures that fit well. Although those may hardly pretend to be exclusive, yet a wall around a production plant in an industrial area should not necessarily look ethereal. Yet, we do offer some sketches of such structures, including those that look pretty nice. A finished item undergoes final treatment to gain improved durability:


Prime coating prepares surfaces
Anti-corrosion coating
Painting, galvanizing, other treatment methods

Decorating welded structures with forged parts brings an item to a new level. Under very slightly higher price you get a fence that plays with new colors.

Cold forging structures

Cold forging means bending and decorating metal with specialized equipment, but without heating the metal itself. Metal with lower carbon content is used for cold forging, being more ductile. At our service are multiple templates to select a very good item from. Yet another nice feature is the price for such fence that would be considerably lower than the one for traditional forging.

Decoration forging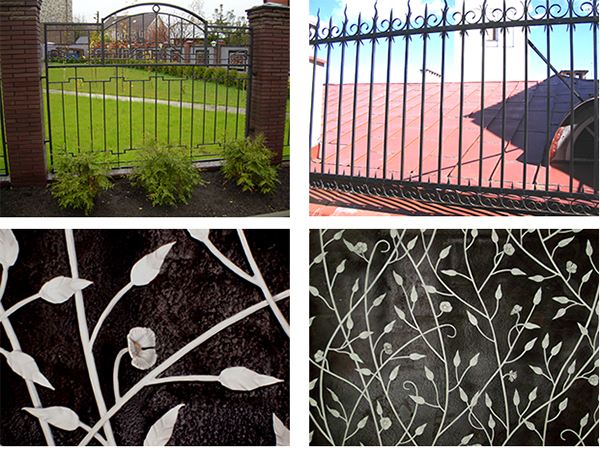 It is here where exclusive things are born to live. A skilled blacksmith armed with a hammer turns hot metal into flowers. We can make any dreams come true and implement just any project. Forged iron fences emphasize your status and make your house luxurious and prominent. If you order a stainless steel item, it would serve for decades to symbolize your patrimony. So, add your family emblem to the project!

Taking care about forged items

If you selected an item made of ordinary metal, it needs some preparation, as it has to withstand open air. First, it is our professionals who come into action. They thoroughly clean surfaces and put primary coating on, then cover it with varnish or painting. If you ordered a charcoal grill, do not be surprised to see it unpainted, as paint cannot withstand open fire. From now on, it is you who takes care about your items.

The simplest thing to be done regularly is wiping the fence with wet sponge. Abrasive paste and powder are strictly forbidden! They create micro cracks - that is where corrosion starts. There are multiple sprays and tissues to add shimmer. Yet the ideal thing to use is wax.

Once every two or three years, items standing at open air must undergo powder painting. That would make you sure that the environment would not affect your fence. Movable parts (gates or door hinges) must be periodically lubricated. If your fence has parts made of glass or wood, those parts need some care too. Just follow these simple rules and forged beauty will be with you for a long time.

Contact our factory now, and we help you to create the image you have always had in mind. Your house will become a piece of art work that any bypassing stranger would gaze on!