Forged furniture
Wrought iron furniture is an amazing composition of good style, durability and reliability. You have a unique opportunity to decorate your house and garden with items that would be highly appreciated even by Royal families. It may stand in a bedroom or on terrace, in a dining room, in a garden, in a bathroom, in a study. Contact our factory, and our professionals and experts in art will prepare a piece of the Middle Ages for you to live within with comfort and convenience.
Wrought iron beds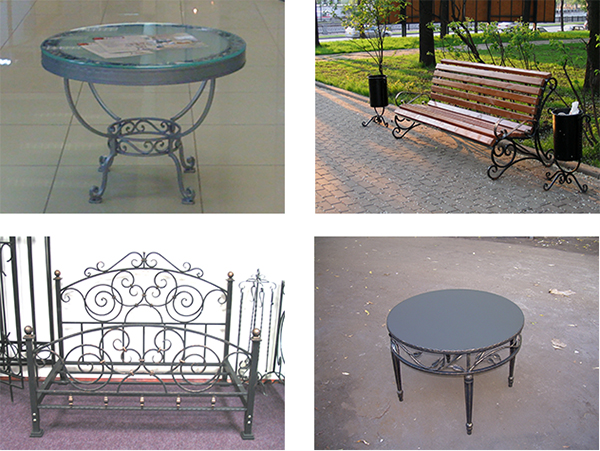 Wrought iron beds are among the most demanded items. They perfectly fit hi-tech, baroque, modern, classicism, renaissance interiors. They may be in perfect harmony with fabric, leather, and fur. All you need is the proper approach to the project. It is here, where our team may help you. Minimalism is characterized by straight lines and geometrical shapes, baroque blooms with lots of curls, flowers and leaves, wrought iron canopy would turn the bedroom into the Royal place. The combination of monumental and ethereal in metal really impresses. Order this magnificence into your bedroom, or your child's bedroom.
Wrought iron tables and chairs
Some would prefer to decorate their dining room tastelessly with furniture bought for nothing from the shop located next door. Or you could visit us and turn it into a magnificent and cozy place. Combination of glass and metal is unexpected but excellent. Dinner tables and coffee tables may be selected right from our catalog, or with your own design, with a picture from the Internet or even with oral description. Besides, your interior may surprisingly get wrought iron furniture, like sofa, armchairs, or a privacy screen for women's room. Our artists carry out all the preliminary work, and your interior grows with "the" furniture. Dreaming about a café or a restaurant? Not only will wrought iron tables and chair grant special status to your dining hall, they will also serve for long years ahead, saving your money. Think ordinary furniture would be cheaper? Think twice, having counted how many times you have to replace it during upcoming years!
Wrought iron house accessories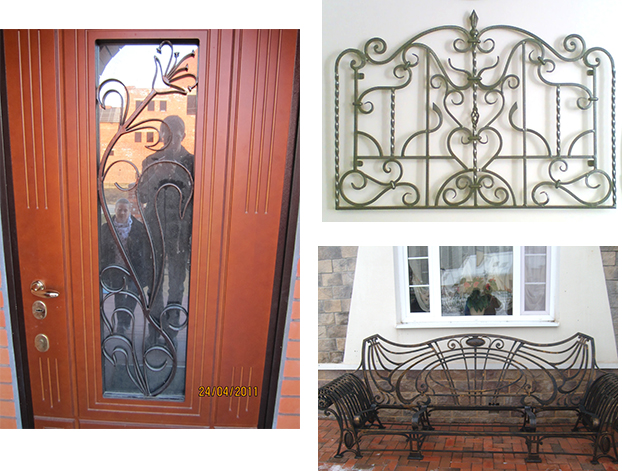 Small things create comfort in a house: cozy lamp in a hallway, ornamented magazine rack in a hall, delicate stairs for flowers or nice pier-glass. Mentioned separately must be stainless steel items to be used even in a bathroom, like supports for bath accessories. We are real experts in producing items contributing into such home comfort. You will really feel it, how the atmosphere in your house would change, as oriental wise men said that metal brings wealth and prosperity into a house. Order useful things from us to make your house different from a number of others!
Decorating a garden
The design of a private house may not be perfect as long as works in a garden are not over. Benches and pavilions, fences and grills represent the last step to the perfection. Our wrought iron furniture for gardens undergoes special treatment to withstand open air. Special protective coating prevents corrosion to grant decades of usage. We help you to select decorations of any style – minimalism, modern, baroque, classicism. Your visitors would adore the style and superior quality, your business partners would recognize a stable and reliable person in you.
You only need to contact us to enjoy this beauty around. We provide assistance with measuring, designing a project, production. We know how to schedule work, thus we guarantee perfect fitting into your timeline. Our advanced technologies and team of professionals guarantee superior quality. We only need a few days to calculate costs and approve drawings, and metal would turn into your wrought iron furniture next. It is now high time to turn ordinary into fascinating. Just visit us!