Eaves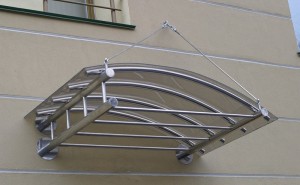 Eaves that protect you from sunrays are simple, and it is the simplicity that is genius.
Our factory "TNM Manufacturing TNM Expanded Metal Components Manufacturing LLC" produces any eaves, of any size, for any purpose, out of any material.
Available eaves are straight, half-round, rectangular, circular, quarter-round, L-shaped, and those of sophisticated shape.
We can make custom design eaves according to the drawing– the picture with absolutely all dimensions and parameters specified. Alternatively, a sketch, or a non-professional draft picture, may be provided. Should it be necessary, a skilled technician from us may visit the customer to solve any engineering task, it is good for more complicated orders.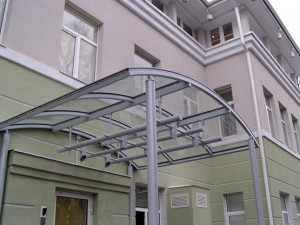 Eaves may be hinged, on brackets. Eaves may also lie on several additional supporting stands – if the eave is larger. Eaves along the entire façade are ordered at our factory on regular basis.
We have a wide range of materials for eaves – round profile, rectangular profile, decoration round bar. Materials may be colored steel, stainless steel, finewood or in a combination. Eave frames may also be casted. Forging is possible according to our sketches or the sketches provided by a customer. Our frames are corrosion-resistant and they do not need regular care. The frames are lightweight, durable, perfectly designed. Our eaves are functional and become a true decoration for any building.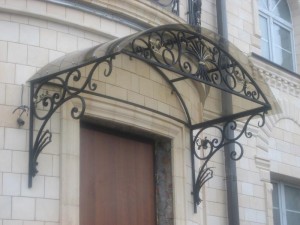 Our eaves may look official or have any ornament. The wide range of shapes and color combinations for certain does include the one your own house, villa or business had been missing. We may coat eaves with polycarbonate, profile sheeting, aluminum composite panels or any other material that our customer may wish. Our professionals would always be glad to suggest the ideal solution, if the client is not sure about something. Many of our customers are grateful to our professionals for preventing them from wrong decisions that might have resulted in unnecessary expenses.
An eave above a balcony prevents the balcony from direct sunrays and makes the balcony far more comfortable and cozy. Metal eaves with nice ornaments decorate private homes, townhouses, villas and office buildings. We can easily select an eave with the perfect shape and ideal ornament for any case.
Orders may be placed by phone, in writing or in person. Our workers are skilled welders, blacksmiths, assemblers. Our factory guarantees high quality and fitting into the deadline when making the orders.
If you need an eave, just apply to our factory "TNM Manufacturing TNM Expanded Metal Components Manufacturing LLC". You get both a perfect item and wonderful mood. We are always glad to see you!