Forged/wrought railings
The main purpose of any railings is safety.The main purpose of any railings is safety. What can protect better than metal? Forged metal can! Plus it is incredibly beautiful. It is time to provide good outline for your home to get special warmth in return. Here are just some advantages of forged railings:
They are very reliable
They can not only protect but are also fine decoration
They can be different in variety
Depending on your budget, we may offer various metal treatment technologies.
Hot forging – something we know from the ancient world, with two main participants – a blacksmith and hot metal. That is the way how exclusive items are brought into life to be adored for decades.
Forged railings
You see them surrounding nice countryside houses, five star hotels, and good parks. Low standing ornamental railings may be good to decorate city landscape, and high ones are to protect your property. Grass plot railings emphasize the geometry of grass plots, flowerbeds, parks and gardens, fountains, pedestrian lanes, alpine hills. They actually bring together all the landscape design parts. With our sketches, it is easy to select railings sections for your own house, or for a business building. You can share your own ideas with us, as our designers are always ready to make a step towards customers to turn the idea into the detailed drawing. If you simply dream of beauty, with no idea about it, our designers would help you to choose the perfect solution for your house style. Particular sections may comprise sophisticated ornaments of baroque, or modern style patterns, flowers or plants from renaissance or classic lines running up.
Forged hand railing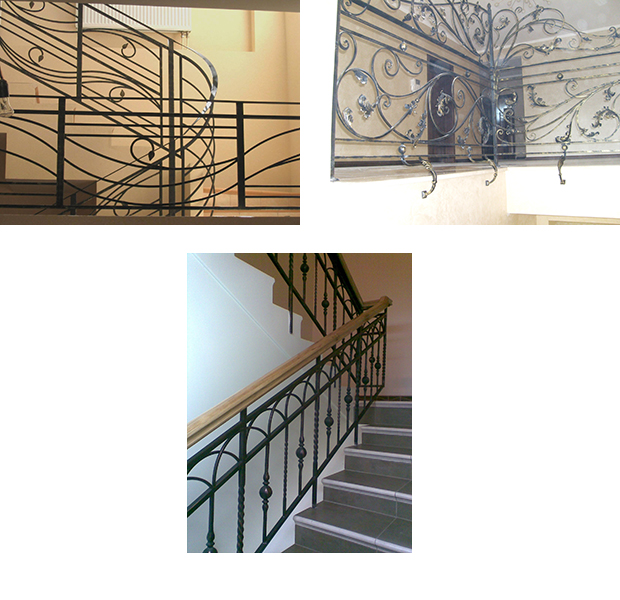 Any staircase must have hand railing, wherever safety matters. Besides, hand railings have a decorative function, telling about your tastes in architecture. Via combining various metal treatment methods we do any order however sophisticated it might be. Hand railings for the entrance doorsteps may look simple and sophisticated. When decorating inner staircases your imagination can be unlimited.
If your house style reminds the style of a palace, it would match hand railings looking rich but with austere style. If there is enough area, some massiveness may be added to provide the house with some status. To make hand railings exquisite, select plant patterns and curls allowing much light through. Forged hand railings are painted in most cases into black, brown, gray, golden, or bronze colors. Aging visual effect is ordered often, too. If you wish something original, we can implement any idea.
Balcony railings
Their pattern often repeats the pattern of staircase railings. One exception – if the in-house hand railings have large empty areas to make it look light, the balcony railings must have a denser ornament for safety reasons. So, our designers would create a uniform architectural ensemble with only a few differences resulting from functionality considerations. Yet another difference is the coating on balcony railings, which should be more weather-resistant. Thus the finished item typically would have several layers of coating together with anticorrosion treatment.
We know everything about metal. Trust professionals!