Forged/wrought stair railings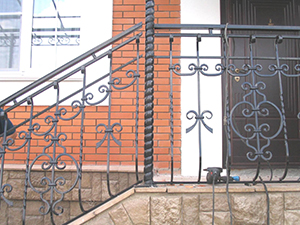 Staircase fences protect a person from falling and support this person climbing. This is also an important external design item. Every stairway with more than three steps has it. That means any staircase to a private house or large office has fences. We offer staircase fences made of the best materials, such as metals and stainless steel.
Ferrous metal stability
If you need good yet affordable fences, it is the ferrous metal that fits perfectly. Both its cost and the production process are rather cheap, yet our imagination facilitates turning ordinary rods into elegant bent parts of staircase spans. In our work we use foursquare, bars, profiled pipe, pressed and forged parts, decorating rolled stock with texture of bamboo and tree barks. Such staircase fences are mounted onto metal, wooden or concrete staircases. For better durability and better look the metal is coated with paint, so the surface would look as if it is coated with gold, chrome, or as if the metal became old.
Fences are used at façade staircases, balconies, inside multi-floor building and offices.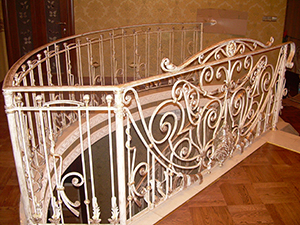 Durability and beauty of stainless steel
Stainless steel is a queen among metals. It has the top position in a list of the most reliable and durable materials. Staircase fences made of stainless steel are ideal outdoors, because the stainless steel does not corrode. That is why no luxury entrance lobby would ever exist without such a decorating element. Swimming pools, verandas and country house balconies, pavilions – they all need the beauty of stainless steel.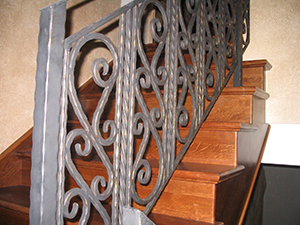 Combined staircase fences
Mesmerizing skyscrapers, fascinating country houses, wonderful hotels – they all have interiors created by the best designers in the World. Even the tiniest of the details matter. Staircase fences will not be an exception. We use most luxury combinations of steel and glass, metal and wood, chrome and bronze.
Our advantages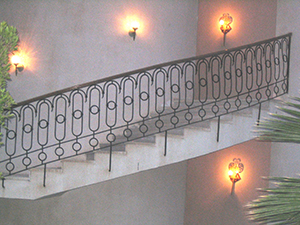 To order staircase fencing at our factory means to be sure about the quality
standards. Our equipment would cut materials with superior accuracy, while spot welding would merge them smoothly and reliably. Painting surfaces smooth and reliable is only possible in the factory environment. High-qualified professionals using your desires guarantee superior quality control at every stage.
We are always ready for communication with our clients. Our clients are large developers, small companies, design studios and individuals. They all enjoy affordable prices for our work. Contact us now, and it would be already the first meeting that will become the beginning of your long-term cooperation with us.