Fences, hedges
A house starts with a fence. Nice metal fencing does differ from broken-backed piles with some wire in between.
Our factory TNM MANUFACTURING "TNM Expanded Metal Components Manufacturing LLC" produces wonderful fences with various design and purposes.
If you need nice symbolic fencing, we may produce low fences with nice design and various ornaments and symbols. For example we have some symbols that would be good for the park fencing. Actually we have some all-purpose symbols.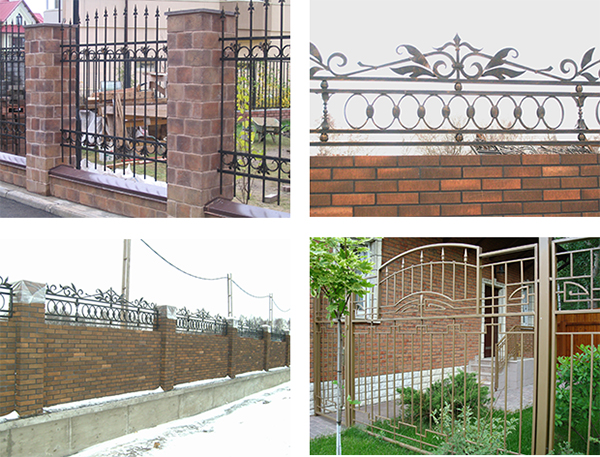 If you need a secure fence, we produce metal fences for different cases, high and firm.
Fences are made of different materials. They may be welded out of rod bar, profiled, reinforcement steel, treadplates, galvanized sheet, wire mesh, cast iron. We can produce a nice original fence with chains having different width, via welding. Fencing may also be made by forging. It is nice, though more expensive. We also can produce dismountable fencing fixed by decorated bolts.
Nice and durable fences would decorate private houses, offices, parks, gardens and flowerbeds.
There are many types of fences – solid, tracery, ornamental.
One particular finding is panel fences welded out of steel wire. Such fences are used to separate private territory, to mark airport territory, military facilities etc. Fences of that type allow guards to see a potential intruder long before he approaches the protected zone. Panel fences are protected from corrosion, does not need frequent painting. Panel fencing uses galvanized rods of two diameters: 5mm for the pair of horizontal and 4mm for vertical rods. The panel is coated with polymer painting. Metal sticks, 30mm long, are welded to one side to connect panels to each other all the way long. A single section is 2480mm wide while a single cell has dimensions 200x50mm. The supports are rectangular piles 60x40mm, polymer-coated. There are two versions of the supporting piles available: longer - for installation into concrete, and with square base for anchoring.
We can also manufacture fences combining wood and metal, metal and concrete, metal and plastics etc. For our factory, making metal fences of any type are usual.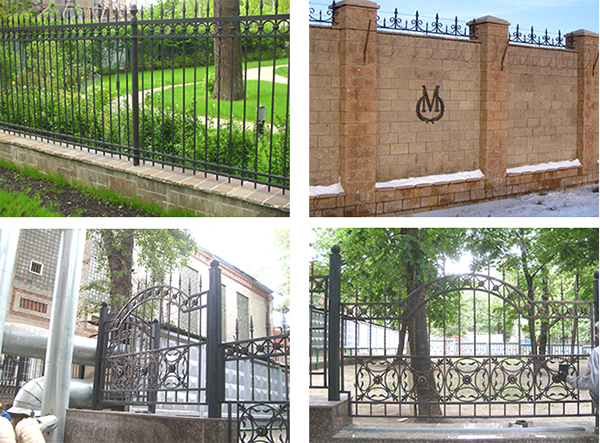 Fences may be decorative – for example, for the flowerbeds, or functional – to protect the territory from intrusion. If necessary, we can also produce impenetrable fence for special purpose facilities.
We make reliable, durable and nice fences of any complexity, out of various materials.
Our advisor may visit you to discuss details relating to the particular site.
If you wish to replace standard fences at your balcony with decorative one, contact our factory.
You may order fences by phone, by a letter or in person.