Forged gates/ wrought gates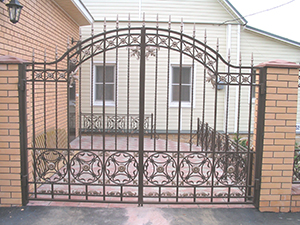 Eyes reflect our soul, gates reflect our house. It is through the gates that your family members enter the house seen by your neighbors and visitors, it is the gates that welcomes you after yet another hard day. Your mood and your status both depend on how good the gates may be. Can conveyor-made items tell anything about you? Never. Wrought iron gates may be the best way to demonstrate you are a good owner. We offer you wrought iron entrance gates from our catalog or according to your own project, even if the main decoration of your garden exists only in your imagination yet. Just visit us and we will first put in onto paper and then we will use it in metal.
Hinged wrought iron gates
This type of fencing is the most popular. It consists of two sections, fully forged or a combination of a solid sheet and forged decoration. If you plan to enter with a car, do not forget to reserve 3.5m for gate opening. Hinged gates have the following advantages:
Unlimited opportunities regarding materials used and design implemented allows making an item according to any project
Automated opening system may be connected to allow opening without leaving the car
Unlike with sliding gates, counter balance is not needed, leaving visual appearance intact
No need to cast concrete under rollers
Wrought iron garage gates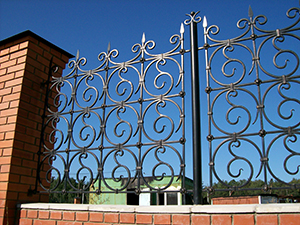 Garage gates have dimension limitations. Sure, ornamented gates do not fit, yet reliable metal gates decorated with forging would fit countryside house landscape just perfectly. The gates of this type allow thermal, hydro- and noise isolation, so you get necessary microclimate in your garage. The cost of such gates would depend on materials used and sophistication level, thus anyone can make his best selection.
Wrought iron entrance gates
These are used to prevent the trespassers from entering the protected territory. Wrought iron entrance gates are mounted near the entrance to the private territory of a private household, production facilities or a commercial office. It is better to reserve at least 3.5m for the gates opening to allow a truck or a firefighting vehicle to enter the territory. Because the wrought iron gates are a forged item, it may cost slightly more, yet its beauty and durability is worth it.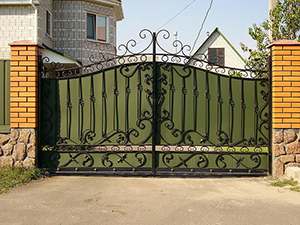 If you wish to be more than just a part of crowd, pay your attention to wrought iron entrance gates with fine wood elements surrounded and decorated by metal accessories. It adds some austerity and even asceticism to your house, if it matches your personality, you already know whom to contact.
Ornamental wrought iron – past, present and future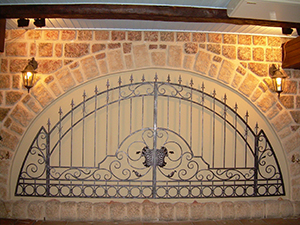 Mankind has been processing hot metal for thousands of years now. There was the time when one needed to produce weapons, tools, and miscellaneous items for living. Yet sooner or later the desire to decorate living premises gave birth to production of forged fences, buildings, windows, pavilions, benches for parks and gardens. That was the moment when ornamental wrought iron works became art rather than craft. True masterpieces were valued like treasures of art. During the Middle Age ornamental wrought iron gates could be decorated with tiniest twigs and flowers with each flake or leaf clearly seen. XX century marked industrialism blooming with modern and hi-tech prevailing. That was the time when ornamental wrought iron became secondary in favor of plastic and glass. Only the wisest and the most creative people understood that the art of ornamental wrought iron would come back. Today, those who want to emphasize their individuality and wealth decorate their houses with forged accessories.
Forged railings on windows, fences, gates, pavilions, beds, tables, just like natural hardwood flooring against laminate flooring, represent comfort and coziness of natural materials.
Ordering wrought iron gates has never been easier. We have the most advanced technologies, invited the best designers and blacksmiths. They will make for your house an item, which will be so beautiful, that nobody can just pass by. Design department will help to put the ideas relating to the wrought iron gates
onto the paper, the price will be calculated by estimating department, and it is within one or two days that our team starts their magic with fire and metal to create a unique and true masterpiece out of this combination. Every our creature brings a spark born with love within. Impress yourself and your family, and decorate your house from the very beginning!