Hydro-abrasive cutting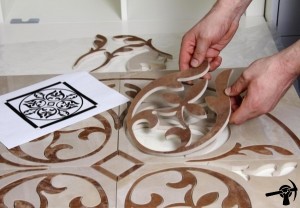 You want to get a sophisticated ornament out of a metal sheet? Wish a piece of marble or granite turn into delicate lacework? A plain piece of glass shine like a diamond? Contact us now, for we are true experts in magic.
Hydro-abrasive cutting has been used for about 40 years now. And nowadays it has become popular. During the last decade this technology became a serious competitor for laser and plasma cutting.
Why choosing us:
Because our factory uses the most-up-to-date equipment.
The best professionals and the most efficient managers work for our factory.
We take great care about our reputation, so the deadline of the agreement is very important for us
Long-term partnership is in priority for us, and we will for sure find the way to finish the orders from our regular customers to the highest professional standard and in time.
How it works
Water under very high pressure comes out of a nozzle. Right before coming out, the water is mixed with the tiniest abrasive sand, the combination that brings even the hardest materials under control.
Advantages
With hydro-abrasive cutting we may cut metal sheets 0.3 – 300 mm width or even more. Stone, glass, plastics and composite materials are all perfect for hydro-abrasive cutting.
Working accuracy of the detail may be as high as 0.04mm, because the nozzle diameter may be as little as 0.5-1.5mm, depending on the particular order.
Numerically controlled machine tools may cut out items, however sophisticated they are.
Hydro-abrasive cutting leaves minimum wastes, as the work may be started at any point of a workpiece.
A stack of sheets can be cut at once, thus making the work faster.
Material does not heat up during cutting and the manufacturing process is fire-safe
No heating up means the material does not curl when treated, the working accuracy improves even further.
Heat-sensitive materials may also be treated.
Hydro-abrasive cutting is safe and environmentally friendly.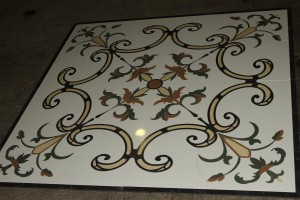 Thanks to all these advantages this technology is used in various spheres. Construction and design, advertisement and production, aerospace engineering, defense industry – it`s just a part of the list. A very similar technology is even used for cutting fish and meat, where clean water under pressure is used, of course, without sand.
Are you a designer or a constructor? Or, maybe, you represent a large company or a production entity? We always find enough time for every customer to finish the order in time under fair price.
We work with ferrous and non-ferrous metals, stainless steel. High-class professionals carry out our production, and they are true experts in operating numerically controlled machine tools. We can handle most unusual projects and create the most sophisticated items. Multistage quality control ensures ideal cuts and perfect fitting to drawings.
Contact us today, and tomorrow we will agree on the details and start working. You will see you made the right choice when our manager calls you back to tell the work is done perfectly and in time.